5 tips for a Great Night's Sleep
Created Date: 26 May
0 Comments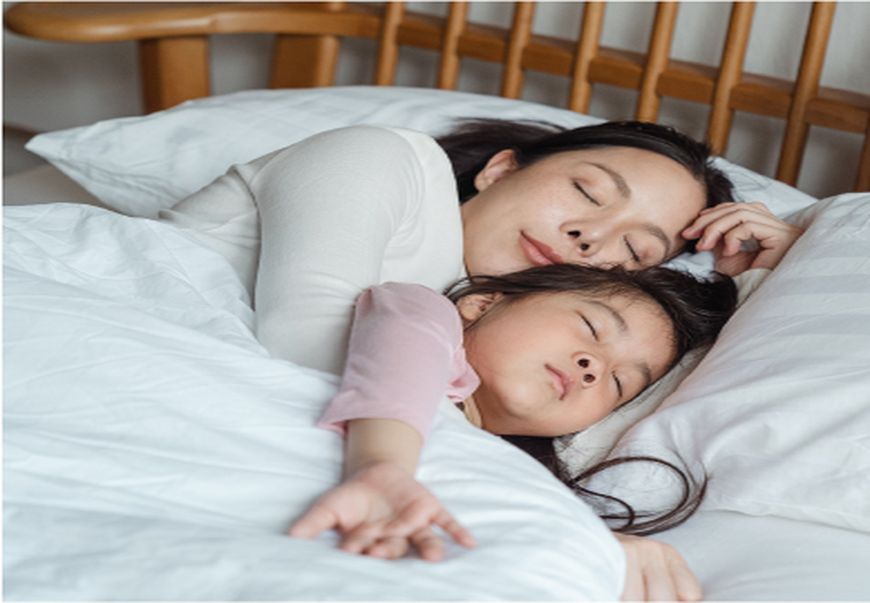 With 36% of adults in the UK experiencing difficulties falling asleep - at least once a week, and 4 out of 10 adults reporting that poor sleep has made them feel more stressed, irritable, or angry we could all do with some help achieving a better night's sleep.
There are many factors that can lead to interrupted sleep, from work stress to family responsibilities, illness to bad habits. Identifying what is causing your sleep disruption isn't easy, but when it comes to improving our sleep patterns there are many steps that we can take.
Often, it is a case of trial and error to discover which works best for you, but here we list our top five strategies that can help deliver a great night's sleep!
1. Develop a sleep schedule
Going to bed and getting up at the same time every day, including weekends, is a key step towards better sleep habits. Being consistent reinforces your body's sleep-wake cycle and establishes a routine that over time helps train your body as to when to expect sleep.
It is important to get enough sleep, but not oversleep. The recommended amount of sleep for a healthy adult is seven to eight hours, but there are many people who struggle to reach this level, while at the same time many end up sleeping for much longer. Setting aside a regimen of eight hours with regular bed and waking times can help you achieve this goal.
If you struggle to fall asleep within about 20 minutes of going to bed, try leaving your room and doing something to relax. Reading a book, or listening to music, can help your body and mind to unwind. Once you start to feel tired then return to bed and repeat as needed.
2. Vitamins & Supplements for sleep
Many people find that taking over-the-counter supplements can help improve their quality of sleep. The most common supplements suggested for sleep problems include Melatonin, Magnesium, Lavender, and Glycine.
HAAA Pharma has a full range of sleep supplements that can help you achieve a better night's sleep.
Melatonin is a hormone that your body produces naturally, and it signals to your brain that it's time to sleep.
Magnesium is a mineral that is important for brain function and heart health. In addition, magnesium may help quieten the mind and body, making it easier to fall asleep.
The lavender plant produces purple flowers that, when dried, have a variety of uses, but it is lavender's soothing fragrance that is believed to enhance sleep.
Glycine is an amino acid that plays an important role in the nervous system. Studies show it may also help improve sleep.
3. Create a restful environment
Keep your room cool, dark, and quiet. By limiting the amount of light in the evenings it can help prepare the body for rest. It can be beneficial to install room-darkening shades to help prevent exposure to sunlight - or other light sources – particularly during summer months.
Modern lives are busy, and it can be easy to fill your bedroom with everyday clutter that can be detrimental to relaxation. Piles of laundry, work papers, etc are all constant reminders of other things you might need to be doing instead of sleeping. Try creating a simple, clutter-free space that can help your mind to switch off from your daily responsibilities.
4. Switch off the devices!
Possibly the biggest, modern-day cause of sleep problems are smartphones and other mobile devices. While they are the perfect companion during the day for helping us to feel connected to our work and personal lives, these devices can wreak havoc with our sleep patterns.
From the inability to switch-off and stop scrolling, to the blue-light emitting screens and constant notifications devices in the bedroom are like a 'perfect storm' for disrupting sleep patterns.
If you can, removing devices from the bedroom is the best course of action, but if that is not possible, then ensure that TVs are turned off (with standby lights covered), smartphones are in sleep, or 'do-not-disturb' mode, and tablets are turned off.
Setting a time every evening to turn off devices and giving your mind time to unwind is also a great strategy for helping to improve bedtime routines. Many people also experience less anxiety by giving themselves time away from the screens, which in turn can lead to more refreshing sleep habits.
5. Manage anxiety and worries
Try to resolve your worries, or concerns, before bedtime. One great way can be to make some quick notes about what's on your mind and then set it aside for the next day.
Meditation or mindfulness can also be a great way to begin managing anxiety.
Reducing the impact of the things that are causing stress can also help. Begin by getting organised, setting priorities and delegate tasks. Decide strategies for the following day based upon those priorities and then allow your mind to switch off.